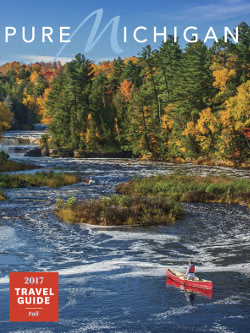 LANSING, Mich. — Sen. Mike Shirkey on Wednesday reminded residents of Branch, Hillsdale and Jackson counties that the 2017 Pure Michigan Fall Travel Guide is now available.
"Autumn in Michigan is remarkably beautiful. Our state's waters and woodlands offer postcard-perfect views and countless opportunities for outdoor adventure," said Shirkey, R-Clarklake. "The travel guide can help you navigate the many outdoor treasures and help you plan your next venture."
From scenic drives and hikes to weekend getaways to culinary destinations, the 2017 Pure Michigan Fall Travel Guide highlights places to go and sights to see across the state, Shirkey said.
Residents can access the digital version of the travel guide and sign up for weekly fall color updates at www.michigan.org.
They also can contact Shirkey's office to receive a free print copy of the guide. Call 517-373-5932 or email [email protected].